Dongfeng Kingland Qihang Edition with 480hp Officially Launched
Recently, 2017 Dongfeng Kingland Qihang Edition with 13L displacement is officially launched. It's an economic star model with high efficiency targeted for main logistics transportation market. And what's kind of vehicle is the 13L Qihang Edition?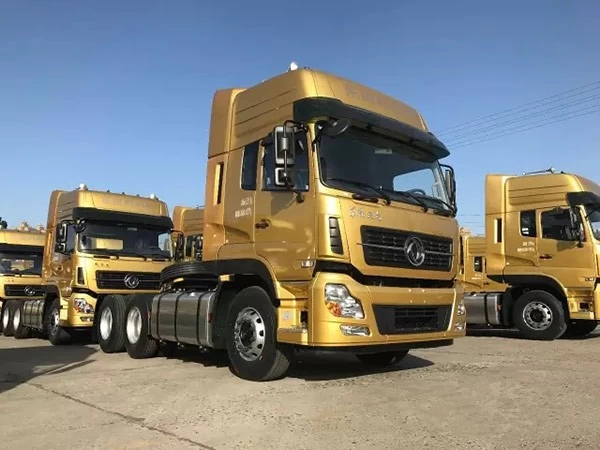 Reliable long-distance truck with high efficiency (updated horsepower and V5)
It is equipped with Dongfeng Cummins ISZ480-51 engine, compliant to V5 emission standard, with an updated horsepower of 480ps and maximum torque up to 2330N.M. 13L displacement delivers outstanding dynamism, fast start, climbing and overtaking performance.
Excellent vehicle matching technique, higher speed, lower fuel consumption, and advanced vehicle power matching technique specific to operating conditions in common use for logistics transportation with high efficiency, enables high average speed and low fuel consumption rolled up into 13L Qihang Edition.
Vehicles for cold areas in North (Equipment updated for use in cold regions)
Double cavity oil tank: with fuel heating function, 0# diesel for cold winter, which costs 1 yuan lower compared with -35# diesel per liter. If the vehicle travels 50,000 kilometers every winter, the fuel fee can be saved up to 20,000 yuan.
Parking heating: the heating is very cheap, with 0.8L fuel used every night. It operates independently from engine, featuring with fast heating, low noise and high safety. The fuel consumption equals to 1/10 of engine's idling, and delivers good economic efficiency.
Product Assurance
It features with updated equipment, quality assurance, and standard with maintenance-free flange edge, battery and 750L fuel tank.
"40,000 kilometers vehicle maintenance service" resolution: including all key service parts like engine, clutch, axle, steering gear, and transmission.
"40,000 kilometers vehicle maintenance service" value: take the 40,000 kilometers operated by customers for example, they can carry out planed stopping service, and customers need to go to the stop 11 times for all services, which only accounts for half of times used for other vehicles in the segment.
Comfortable in interior and gorgeous in exterior
Highly comfortable: super large drivers' compartment, abundant humanization design and comfortable driving feeling, deliver more rendering considerate care to your long distance transportation.
Gorgeous looking: extends classical appearance Kinland cab. On the basis of keeping the consistent modest luxury style of Dongfeng, Obsidian golden adds some beauty. The cab conforms to the Progressive Aesthetics of modern drivers.